Car Inflatable Bed Back Seat Mattress
$38.99

$52.99
Imagine being able to travel without having to lug around a large trailer or stop at motels.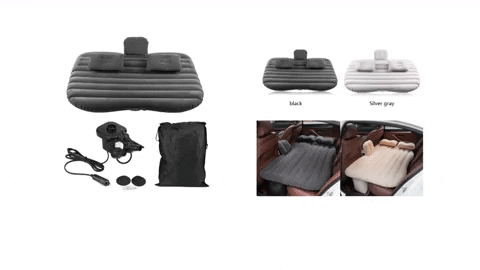 Now you'll be able to travel the world from the comfort of your own backseat. With this, you can expect to be hiking and exploring right when you arrive.
Our Inflatable Bed Back Seat Mattress is the world's best sleeping solution for travelers. Our Inflatable Bed Back Seat Mattress is light and easy to carry, saving precious room for other travelware. Our Inflatable Bed Back Seat Mattress is so advanced that it features a wavy design that fixes it in place and increases durability. All of that without taking more than a few minutes to set up. 
Additionally, our Inflatable Bed Back Seat Mattress even comes with its own air pump. Think of it this way: you unfold the mattress, plug in the pump, and BAM your out hiking the trails and enjoying the outdoors. 
We asked 1000's of campers how they sleep in the backseat and designed our Inflatable Bed Back Seat Mattress to be painless to set up and durable enough to last many trips over the years. Now you can save time and money by utilizing the space you already have. 
The Inflatable Bed Back Seat Mattress also has a proprietary inflatable mouth design to prevent air leakage overnight. 
We're proud to have over 4,000 happy Inflatable Bed Back Seat Mattress users around the globe. We know our product works so well we are even willing to put our money where our mouth is and give you a 30-day money-back.
If you order right now you will be able to sleep out of your own backseat in just a few day's time. Heck, we will even throw in expedited shipping to get it to you at lightning speed. 
If you are interested in hearing what others have to say about our Inflatable Bed Back Seat Mattress go ahead and take a look at the reviews and customer feedback we've garnered over the past few months. They are all from verified and trusted folks just like yourself.
Don't fiddle with tent poles or bother with trailers when you would rather be enjoying the outdoors, just use what you already have with an Inflatable Bed Back Seat Mattress. 
Please as always feel free to let us know if there is anything we can do for you. 
Supported Ride After Back Surgery
Perfect for traveling to the beach a couple of weeks after my back surgery. My doctor approved the use of it ahead of time and I was thrilled. I felt like I was traveling on a luxury RV. I had plenty of support.
Super Comfortable! Fast & Easy 2 Inflate!
This was super comfortable. Like sleeping on clouds! Before sleeping in my car was super painful. My seats are not very comfortable. I thought I would give this a try.. and I am glad I did.
A bed for the boys.
We got this for our dogs when we travel and it was probably one of the best purchases I made last year. The price was awesome. Love it I recommend this especially if you travel with your pets.
BEST PURCHASE EVER
I am in LOVE! I've been homeless & sleeping in the backseat of my Ford Fusion for a few months now and with corona, I'm in my car a LOT more! I hesitated to order this before but I'm soooo glad I did!!
Road trip essential
This is a must-have if you're going on a long road trip or going camping. Drove from Minnesota to Arizona 27 hours, and this thing saved our lives. so durable and easy to use.