Car Door Seal Strips Sticker B Shape
$8.99

$12.99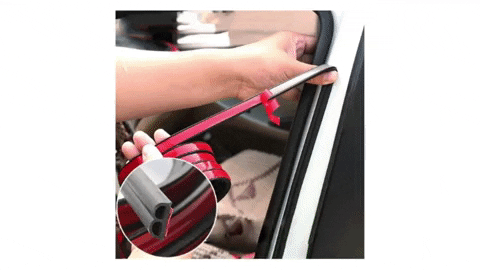 Imagine being finally able to make long car trips without getting your feet wet.




Now you will be able to seal out the elements. With this, you can expect the interior of your car to last longer, and you can avoid mold and mildew.




Our Car Door Seal Strips are the world's best car door sealant. Without Car Door Seal Strip's advanced waterproof fiber construction, you'll be able to keep the rain outside, and your climate control inside. The Car Door Seal Strips are even so advanced that they decrease road-noise, so your trips will not only be dry but also quieter.

Additionally out Car Door Seal Strips can even be installed in mere minutes. Think of it this way, you remove the adhesive protector from the back of the Seal Strip, and BAM it's applied. It truly is that simple.

We asked 1000s of car owners how they would seal their car doors, and designed our Car Door Seal Strips to last longer than any other product on the market. Now you can rest easy knowing that your car is protected from the elements for years to come.




Our Car Door Seal Strips also are CCC certified to ensure their quality.

We're proud to have over 4,000 happy Car Door Seal Strip users around the globe. We know our product works so well we are even willing to put our money where our mouth is and give you a 30-day money-back.

If you order right now you will be able to extend the life of your vehicle in just a few day's time. Heck, we will even throw in expedited shipping which will get to you in lighting speed.
If you are interested in hearing what others have to say about our Car Door Seal Strips go ahead and take a look at the reviews and customer feedback we've garnered over the past few months. They are all verified and trusted reviews from folks just like yourself.
Don't wait for the elements to beat their way inside your vehicle, arm yourself with Car Door Seal Strips!
Please feel free and let us know if there is anything we can do for you.
Worked for me.
When I received the merchandise, I installed n was easy the Adhesive was good n tight can recommend it to my friend my SUV was noiseless while running at highway.
Good for the buck
Awesome👍🏽
I used it for my van on the front doors, i was having a LOT of noise of air coming inside, i installed it on the opposite side of the old seal so it ended on seal to seal, the noise decreased a lot.
Great!
Effective, the price is friendly. Rubber is well made. Clean the area first, then peel the red piece, give your car a little makeover. It does reduce the noise when you close the door. It does help to keep the inside temperature stable. Great!
Made a difference
Placed these around the edges of an old exterior door to stop cool air from coming in. You could hold your hand along the seals of the door and noticeably feel cold air coming inside the house. After putting a strip of this around the door, you cannot feel any more cold air coming inside.