Universal Adjustable Oil Filter Wrench
$27.99

$39.99
Imagine always having the right tool for the job without having to head to the toolbox.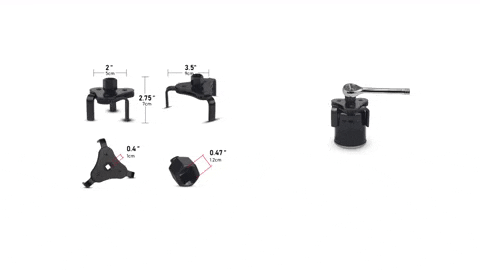 Now you'll be able to have one tool for every size oil filter. With this, you can expect a full range of adjustability. 
Our Universal Adjustable Oil Filter Wrench is the world's best adjustable filter removal tool. With Universal Adjustable Oil Filter Wrench's 45# carbon steel it will last a lifetime.  The Universal Adjustable Oil Filter Wrench is even so advanced that it can remove other filters such as the air purifier. All of while costing less than a nonadjustable wrench. 
Additionally, our Universal Adjustable Oil Filter Wrench is completely rust-resistant and waterproof.  Think of it this way, you take your wrench and BAM you don't even need any other tools. 
We asked 1000's of mechanics about what tools they used to remove oil filters and designed a product that would combine them all into one, and be useable on any vehicle on the planet. Now you can benefit from a design approved by mechanics the world over. 
The Universal Adjustable Oil Filter Wrench also features a three-pronged design that enhances the grip on the filter for easier use.  
We're proud to have over 4,000 happy Universal Adjustable Oil Filter Wrench users around the globe. We know our product works so well that we are even willing to put our money where our mouth is and offer you a 30-day money-back. 
If you order right now you will be able to effortlessly remove and replace your oil filter in a few day's time. Heck, we will even throw in expedited shipping which will get it to you at lightning speed. 
If you are interested in hearing what others have to say about our Universal Adjustable Oil Filter Wrench go ahead and take a look at the reviews and customer feedback we've garnered over the past few months. They are all verified and trusted reviews from folks just like yourself.
Don't reach into your toolbox for multiple, easy to lose tools, just grab our Universal Adjustable Oil Filter Wrench, and have one tool for all your filter needs. 
Please feel free and let us know if there is anything we can do for you.

Exactly as described.
Change oil-filter on motorcycle,car, and truck. Good heavy grade steel. Will easily give years of service. Thanks for selling a good product. Such a good product I actually purchased two!!
A Must-Have Tool
Awesome tool. Very easy to use. Removed stubborn oil filter with ease. Highly recommended tool for your toolbox.
Works well!
Just have to hold it for it to get a good grip. After that, works well removing the filter or tightening one.
Solid
Cheap and works well. Just make sure your filter is within the listed measurements. Some very large filters might be too large for this.